Henry and I did our latest arts and crafts activity this weekend. For this project yopu need:

newspaper
yarn
Rigatoni or Ziti noodles
Acrylic paint
scissors
craft paint brushes
paper plate (to put the paint on)
old clothes (in case you ou your child gets pint on them)
cup of water ( to wash brushes)

I set up newspaper on the table and taped it over the edge to prevent sliding. I let Henry paint his noodles lots of different colors. I showed him that if you mix certain colors together it makes new colors (red and white make pink, blue and red make purple etc.) After we painted We set the noodles aside to dry. We finally got a chance last night to make his necklace. I tied one noodle to the end of the yarn, threaded the noodles on and tied a noodle to the other end with a little bit of space to put the noodle on the other end through for the "clasp". He was so proud of his necklace when I put it on him last night. Here are some pictures and videos (click the links) of him:

Painting his noodles:

He kept saying that the noodles were "beautiful" so I wanted to get him on camera saying it.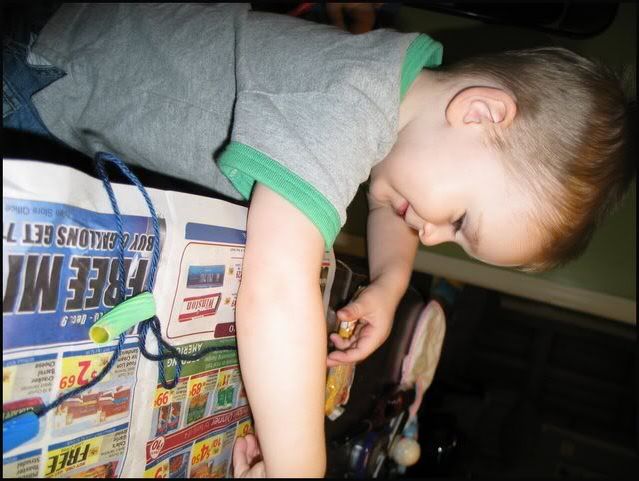 Henry modeling his neclace