This morning Henry and I ate breakfast and then we threw away all his diapers (well, he thinks we did anyway! Zoe did some dumpster diving because she wanted them for herself.) After that we put on his big boy underwear. He also asked me if we were going to ride on the potty train. I thought it was cute.
He chose the dinosaur underwear, very good choice for a beginner. Then we waited. and waited. and waited. I told him to keep his underwear dry and tell me if he had to go potty (about a million times) and I provided him with lots of drinks to start getting the bladder full. it took about 3 hours til we had our first accident. I scooped him up and ran into the bathroom. I felt so silly exclaiming "ew yucky! you got your undies wet!" He cried and cried "I don't like the potty! no, no, I don't want to sit on the potty!" I was starting to regret this decision. Maybe he can wear diapers til he's 5?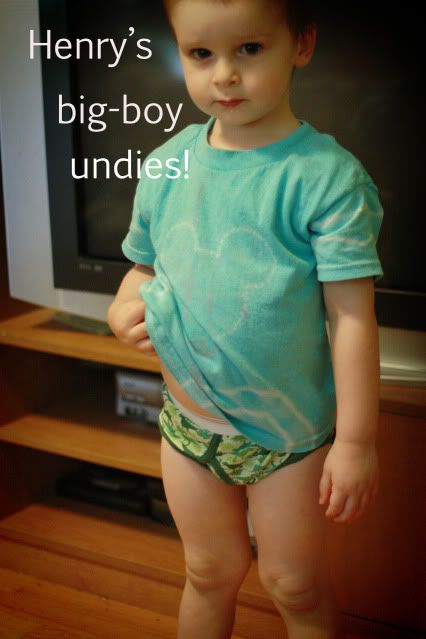 We made this potty training day lots of fun and full of love and encouragement. We never told him he was bad, never made him drink anything or made him sit on the potty. We simply suggested that he drink his juice and reminded him to keep his underwear dry and to tell us if he had to go.
We played with trains,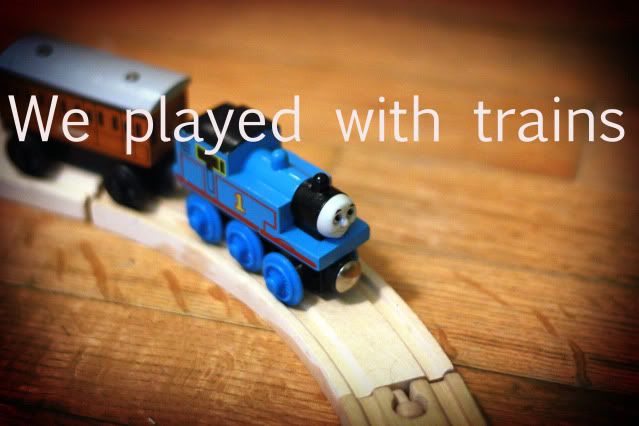 Zoe played too


We built a fort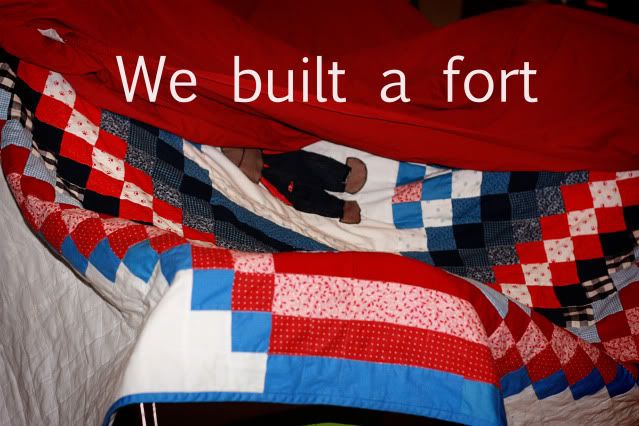 We read some books

After lunch Matt gave me a break from potty training and Henry had yet another accident. (Each time he would start to pee I would run him to the bathroom and each time we would be too late.) This time after Matt sat him on the toilet it started to flow. I guess he just couldn't hold it any longer. We had a party! Matt and I were singing the pee pee on the potty song and dancing and hugging. Henry got quite a kick out of us acting crazy like that. He got a prize for going on the potty, a Nemo fruit snack and a movie. (he doesn't watch tv except for about once a week so this was a big deal)

After this he would do better he would say I've gotta go pee pee and we would take him and he would go on the toilet but we never made it with his underwear staying dry. He also didn't have any BM's today. I have to say that he was better at the end of the day than at the beginning. I am hoping for no bed wetting tonight but I know better. He always wakes up with a full diaper so I think I'm going to be changing some sheets tonight. Let's hope I'm pleasantly surprised!